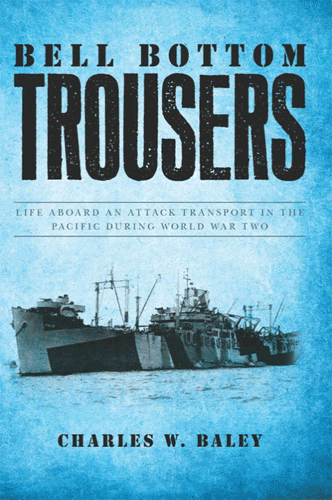 Bell Bottom Trousers: Life aboard an Attack Transport in the Pacific during World War Two
Charles W. Bailey
This story tells of the experiences of a young sailor during World War II, aboard an Attack Transport in the Pacific theater, USS President Adams (APA-19). For the first time in our history we would be fighting a two-front conflict. The war fronts were widely separated and would require different types of fighting and planning. Europe would require a large scale amphibious attack (the Normandy landings) because most of the continent was held by the enemy. But in the Pacific theater, with its many islands, both large and small, the conditions necessitated an almost continuous amphibious war, for which we were not prepared. Neither we nor our Allies possessed suitable landing craft for large-scale amphibious operations of this type. Fortunately, Andrew J. Higgins had developed a prototype landing craft that would win the war for the Allies--- the famed Higgins boats of World War II.

But as good as these landing craft might be, they could not cross oceans or other large bodies of water under their own power. These boats required mother ships (transports and cargo ships) capable of carrying troops and all their equipment and supplies and all the other things needed for a successful invasion. Just any old ship wouldn't do; amphibious operations required a special type of ship. These transport and cargo ships needed to be able to load and unload all their troops and all the troop's equipment using only their own boats and their own crew members as stevedores, thus giving birth to the Attack Transports (APAs) and Attack Cargo Ships (AKAs). Later, LSTs (Landing Ship Tanks) and LCIs (Landing Craft Infantry) were added to the mix. Warships could shell enemy positions and warplanes could bomb enemy positions, but in the Pacific theater it took ground troops (Army or Marines), carried there by APAs and AKAs, to finish the job. Although, such sailors never received the recognition and glory given the "Glamour Ships", they wore their Bell Bottom Trousers with just as much pride and luster as their comrades who served on the warships.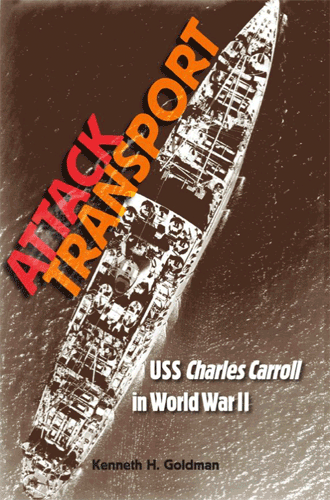 Attack Transport: USS Charles Carroll in World War II
Kenneth H. Goldman
In November 1942, the amphibious transport ship USS Charles Carroll carried troops from Norfolk to invade North Africa. In 1945 it was transferred to the Pacific for the invasion of Okinawa. In between, the "Lucky Chuck," as the ship was fondly known, participated in the invasions of Sicily, Salerno, Normandy, and southern France. Attack Transport tells the service history of USS Charles Carroll (APA-28 which earned six battle stars during WWII.

Kenneth Goldman's father, Lt. Robert W. Goldman, USNR, was aboard ship for five of her six battle operations. As a junior officer (he eventually became the ship's navigator), he held a high security clearance and saved a large portion of the documents to which he was privy. These invasion maps, photographs, ship's plans of the day, convoy position orders, enemy force assessments, and more form the backbone of Attack Transport.

Yet Goldman graciously keeps his father out of center stage in telling the "life" of a ship that participated in almost all of the major U.S. amphibious assaults in the European Theater. Using weathered diaries and letters from other crew members, along with their memories of service, he captures the humor, boredom, combat fears, and capers on liberty that give this view from the lower deck a charm that operational histories do not have.

"Offers a cascade of authentic information and 'flavor' on going to sea that I recognize as quite authentic from my own experiences and gives rare insights into wartime naval service of a ship type not usually covered in the spate of 'war as I knew it' memoir. The shipboard routine reveals itself in gritty and authentic prose." – Kenneth W. Estes, author of Marine Officer's Guide

"Fills a marked gap in our knowledge of the period; namely an up close and personal view of the brave men and gallant ships handling the various D-Days." – William O. Oldson, Director, Institute on World War II and the Human Experience, Florida State University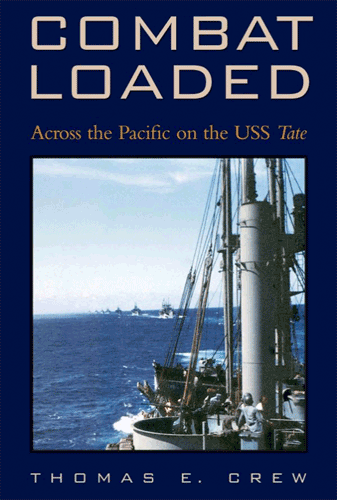 Combat Loaded: Across the Pacific on the USS Tate
Thomas E. Crew
The first authoritative history of any of the more than 350 attack transports or attack cargo ships of World War II, Combat Loaded: Across the Pacific on the USS Tate contains gripping combat narratives alongside the sometimes heartwarming, sometimes tragic details of daily life on board the ships of Transport Squadron 17 during the waning days of World War II.

Author Thomas E. Crew interviewed over fifty veterans of the attack cargo ship USS Tate (AKA-70), including all her surviving officers. Crew weaves a rich tapestry of voices, combining it with extensive analysis of the Tate's daily action reports and ship's logs, accented by lively letters of the period from private collections—including previously unpublished accounts of the last days of famed war correspondent Ernie Pyle.

Crew also presents a rare unit-level perspective of joint operations involving the infantry fighting ashore and the navy transports that sustained them with their vital combat cargo. The resulting richly illustrated work presents perhaps the most comprehensive account to date of the experiences and courageous contributions of those who served on amphibious transports during World War II.